Burnham on Crouch Baptist Church
Location: The church building is on Station Road, just after the cinema.
Services:
CaféExtra is on the 1st Sunday of every month.
Top quality coffee and croissants, with the Sunday papers to look at.
Moments to think about life, the universe, and everything.
And it's all FREE! You can drop in anytime between 10 & 12.30
All other Sundays, our service is at 10.15am.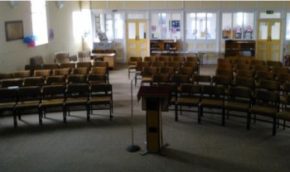 Other church activities
Welcome Club for adults with learning difficulties alternate Wednesday evenings
"The Edge" for teenagers, Friday 6-7.30, followed by optional chat time until 8.45
Coffee morning - Saturday 10.30 -12.30
The church also hosts
Air Training Corps for young people from age 13, Mondays and Thursday 7.15-9.30
Bereavement Support Group for those who have lost a partner, Tuesdays 1.30
Day Centre for older people, every Wednesday
Breakaway for parents and toddlers, Thursdays 9.45-11.30
History
The Baptist Church was built in 1904 although there are copies of accounts of a Baptist Church in Burnham from 1673.
In 1712 a High Street public house called the Jews Well was given to the church and licences for worship. In the early 19th century this building was demolished and it was replaced by an octaganal building unknown locally as the round church. By 1903 a larger chapel was required and the current building was erected.

Burnham Baptist Church now have an excellent web site to visit their web site please click here.