Sea, River and Pool Bathing
Traditionally as befits a coastal area residents and visitors have enjoyed bathing in the rivers and the sea.
Children paddling in the River Crouch in 1910
Whilst this tradition continues at selected spots the temperature, tides and mud, together with greater expectations from the public have virtually stopped river bathing in the Crouch although it still takes place in the River Blackwater and the Sea.
The Crouch particularly has suffered from a high mud content since the great floods in the first half of the 1900's which added to the tidal flow does not encourage bathing. There is a sandy area on the Crouch in Riverside Park, Burnham on Crouch, although this is mainly used for sunbathing, sandcastles and paddling.
The Sea coastline can be accessed via the coastal path although vehicular access to the many sandy beaches require the use of private roads that are usually locked by farmers to prevent theft and damage.
Particular care should be exercised in bathing as the area has no warning system for dangers and no lifeguards .If you intent to bath in the river or sea please visit the Coastguard site for advice.
Popular beaches on the Blackwater -are :- Steeple Bay Holiday Site (Sand and Shingle), St Lawrence Centre (Shingle), Bradwell on Sea - Othona and Down Hall beaches (Sand and shingle)
Swimming Pools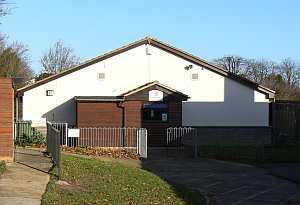 Southminster Pool
There is no public swimming pool in the Dengie Hundred although many of the Junior Schools have their own pools that are used by children and occasionally available to the public
Southminster C of E Primary School has a larger pool that is open to the public for organised and free swimming sessions. Click here for details.
Burnham Primary School has a pool that is normally open to the public in summer school holidays.
Many local people use the public pools at Maldon, South Woodham Ferrers and Wickford.
Blackwater Leisure Centre and Pool at Maldon