Burnham on Crouch Primary School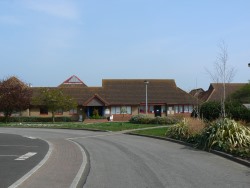 Burnham-on-Crouch Primary School was originally founded in 1897 and was known as the Board school; it was situated on the corner of Arcadia Road and Eastern Road. In 1987 the school were relocated to our current site in Dunkirk Road.
The new school was originally built with 12 classrooms but over the years it have expanded to include 2 purpose built reception classes and 3 semi permanent classrooms currently used as the Learning lab (Special Educational Needs room), music room and activity room (Breakfast Club and small group work).
The current pupil numbers are 375 comprising of 13 classes.
The School have an extensive area for children to play in, including a large field where pupils enjoy a full range of sporting activities including athletics, football and rugby and the use of an all weather football pitch. On the playground there is a large shaded area for those hot, sunny, summer days where the children can enjoy eating their sandwiches 'al fresco' or learning outside. The children also have access to a large climbing frame and a low level assault course in the junior playground and a pirate ship in the infant playground.
Admission Policy
Click here to visit the ECC web page showing the admission policy of this school.
What do the school say about themselves?
At Burnham-on-Crouch Primary School we are a community who work together to achieve our best. We encourage our children to have a positive attitude towards learning, playing, behaviour and relationships through high expectations, positive reinforcement and an understanding of their individual needs. Our aim is to provide a caring, nurturing and secure environment that our children will thrive in.
Burnham on Crouch Primary School has a good web site. To visit click here.