Burnham on Crouch British Legion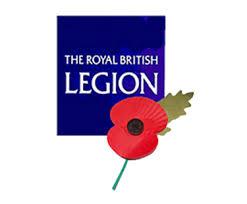 The Royal British Legion is the UK's leading Service charity who provide practical care, advice and support to serving members of the Armed Forces, veterans of all ages and their families.
The Royal British Legion remembers and honours the sacrifices of those who fought and continue to fight in the service of our nation.
The British legion can offer financial aid in an urgent crisis, help homeless ex-Service people get back on their feet, advise on compensation claims, offer careers advice for those looking to make a fresh start after leaving the Forces, arrange home or hospital visits and much more.
With the closure of the Southminster Branch in 2014, Burnham on Crouch branch covers Southminster and the surrounding villages of the Dengie Hundred..
Burnham on Crouch
Burnham on Crouch has a branch of the British legion with a women's section.
Each year before Remembrance Day the branch organises the Poppy appeal in late October and early November. Volunteer collectors are always welcome.
Burnham Branch of the British Legion normally hold meetings at Burnham on Crouch Council chamber at 7.30pm on the first Monday of each month.
The Women's section meets every third Monday of the month except January and August in Burnham Village Hall at 2.30pm.
Their
purpose is to support the ex-Servicemen and serving troop communities and through the Welfare Programme we work to improve the life of the men and women, families and dependents whatever age and background.
They also enjoy social events, fundraising and invite speakers to our meetings from various walks of life.
Click here to view contact details
Remembrance Day
Remembrance Service is observed annually on the second Sunday in November known as Remembrance Sunday.
A typical program is displayed below.