Burnham Clocktower
The Clock Tower is Burnham's best known landmark.
It is a red brick octagonal clock tower with black brick quoins and diapering which was built in 1877. The tower is in four stages with a fish scale tiled ogee roof.
The Tower was dedicated to the memory of Laban Sweeting a well known local oyster merchant who was renowned for his philanthropy amongst local residents.
On his death the Clock Tower was financed partly from public subscription in his memory.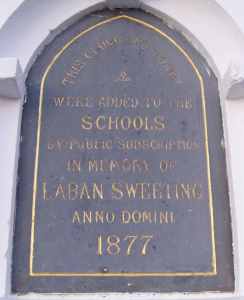 Attached to the clock tower is St Mary's House which is a building now used as flats although its former use was as Burnham Endowed School.
The school was founded in 1785 and improved again in 1815 by voluntary subscriptions. A complete refurbishment was carried out in 1863 followed by the addition of the Clock Tower in 1877 despite competition from the new state school opened at Devonshire Road in 1898. By 1973 the conditions were no longer suitable for schooling and the new St Mary's Church of England Primary school moved to its current site in Marsh Road.